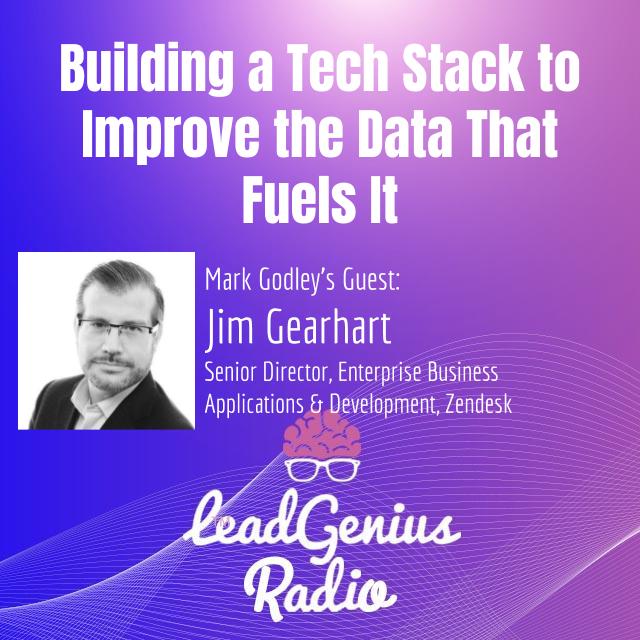 Tech Stacks are seldom built from the ground up with an intentional purpose.  Most are cobbled together from parts (software) that exist and is being used and new parts are added.  When this happens the original intent of the stack is lost and seldom revisited much less new goals created for the whole stack.  
Jim Gearhart has an abundance of knowledge, insight and strong opinions about how to build a tech stack that will actually improve ROI and the data you need to fuel it. 
Mark Godley puts Jim Gearhart, Senior Director, Enterprise Business Applications & Development at Zendesk, in the hot seat to discuss all things Martech.  They discuss:
Why data is like weight
What is shelfware?
Why all organizations struggle with data
Why data is ingested but never used
Taco Bell and the Cheese Cake Factory?
Why fat, salt and sugar is an unhealthy situation in data
Say what?  Data Bloat?
Gearhart will also share his experience as a buyer, handling endless pitches from a dizzying array of vendors claiming nirvana just a PO away. Join September's Data Dump podcast to get the inside scoop on the future of data and Martech tools.
About our guest: Jim Gearhart, Senior Director, Enterprise Business Applications & Development @ Zendesk
With two decades of experience building and leading technology teams, Gearhart has worked in a technical and strategic leadership capacity for a number of notable tech companies including HP, Agilent Technologies, Unify, Turn, Omniture,  & Adobe. Currently serving as Sr. Director of Enterprise Business Applications & Development for Zendesk, Gearhart provides executive leadership and vision to ensure Zendesk's objectives are realized through a modern, cloud-first technology stack.  Gearhart is at the intersection of pricing & packaging decisions for Zendesk's SaaS products, enterprise platform & process governance, and represents Zendesk in MGI's Monetization Leadership Council, a Silicon Valley group dedicated to identifying and sharing market trends and best practices for SaaS companies.  Outside of his day to day executive functions, Jim's interests include family, world travel, science, winter sports, and scuba-diving.