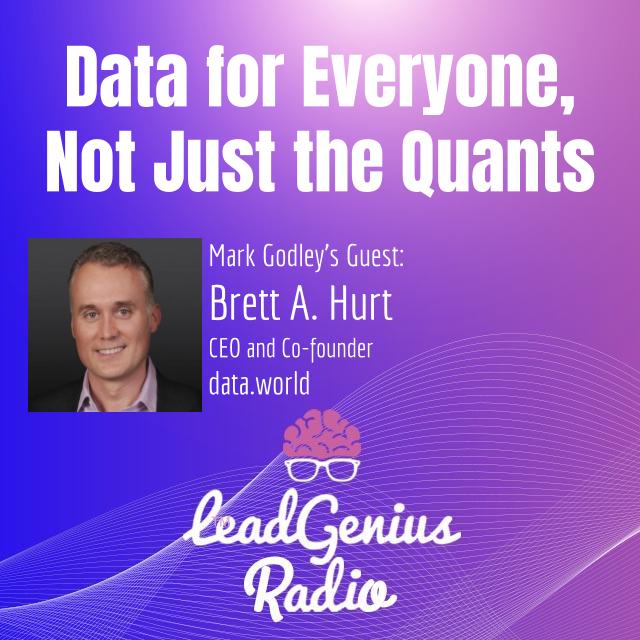 Mark Godley talks with Brett Hurt, CEO & Co-Founder of Data.World. This is a great, informative show because Mark and Brett's data values align. Brett believes that data is liberating and data can lead to all types of epiphanies...which is what the team at LeadGenius preaches daily.
Tune in to hear how your company, B2B or B2C, can leverage data.world's open data sets that make up the largest collaborative data community...oh and it has a user-friendly interface that was not built for gurus and quants, just normal sales and marketing folks. They discuss:
Why data is liberating
The definition of a graft database
How data.world is the world's largest collaborative community
How data is transforming the way F500 do business
The future of a database-driven culture in retail, healthcare, and B2B 
How to catalog your data
Learn why you must build a data-driven culture
How to wake-up your hidden workforce
About our guest:
Brett is the CEO and co-founder of data.world, a Public Benefit Corporation (and Certified B Corporation) focused on building the platform for modern data teamwork. data.world helps you tap into more of your company's collective brainpower—everyone from data scientists to nontechnical experts—so you can achieve anything with data, faster.
Brett is also the co-owner of Hurt Family Investments (HFI), alongside his wife, Debra. HFI is involved in 65 startups and counting, mostly based in Austin (see http://lucky7.io/portfolio for details). HFI is also invested in 19 VC funds and multiple philanthropic endeavors.
Brett founded and led Bazaarvoice as CEO from 2005-2012, through its IPO, follow-on offering, and two acquisitions (PowerReviews and Longboard Media). Prior to Bazaarvoice, Brett founded and led Coremetrics, which was rated the #1 Web analytics solution by Forrester Research and, like Bazaarvoice, expanded into a global company and category leader. Coremetrics was acquired by IBM in 2010 for around $300m.