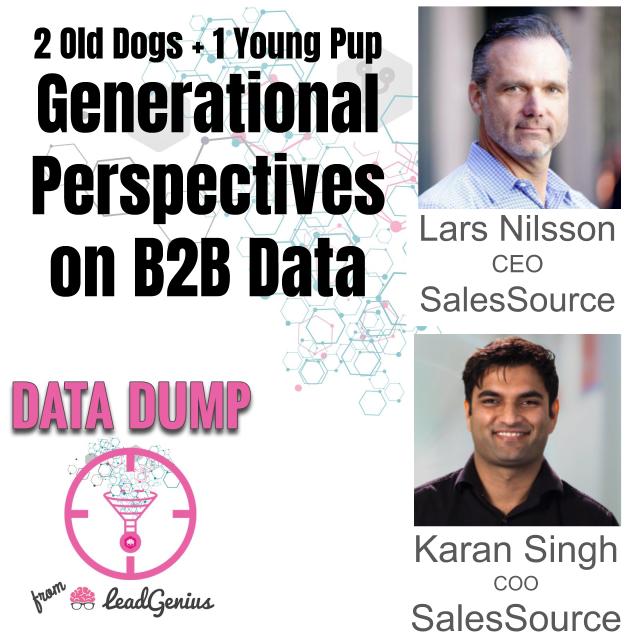 Mark Godley sits down with Karan Singh, COO at SalesSource, and Lars Nilsson, CEO of SalesSource, to discuss why data can make or break B2B GTM strategy. Between the three of these data dogs, they know a thing or two about data and most of it has been learned through trial by fire in their early years. Join the podcast to hear what pitfalls to avoid when choosing a data provider and what defines success.  
Karan Singh, COO, SalesSource
With over ten years of experience managing and growing Sales Operations functions at hyper-growth companies, Karan has been at the forefront of Enterprise Sales Operations for B2B technology companies in Silicon Valley. 
Most recently, Karan led the global Sales Strategy, Programs & Analytics role within Cloudera, where he was responsible for driving the Go-To-Market Strategy, which was instrumental in the overall IPO readiness and execution effort within the company. Karan has also held leadership roles within Corporate Operations (Deal Desk, Order Management), Sales Systems and Compensation Design. 
Prior to serving as the co-founder and COO of SalesSource, Karan held leadership roles at ArcSight and Cloudera, both of which were propelled to an IPO through strong operational infrastructure and sales strategy. 
Lars Nilsson, CEO, SalesSource
With over twenty-five years of sales and operations experience in the technology sector, Lars is a global leader in enterprise software and selling solutions.
Prior to serving as the CEO of SalesSource, Lars was VP of Global Inside Sales for Cloudera, the company that revolutionized enterprise data management by offering the first unified platform for machine learning and advanced analytics optimized for the cloud.
Lars and his team at Cloudera developed the sales methodology Account-Based Sales Development (ABSD), which has transformed how businesses approach high-value targets. Lars also led the sales enablement and field readiness teams at Cloudera. These two functions are becoming increasingly important to fast-growth companies looking to rapidly scale sales organizations by shortening onboarding and ramp time for sales reps. 
Lars has served in sales executive roles at ArcSight/Hewlett Packard, Riverbed Technology and Portal Software – all three of which achieved IPOs, in addition to Cloudera (2017).